who
we are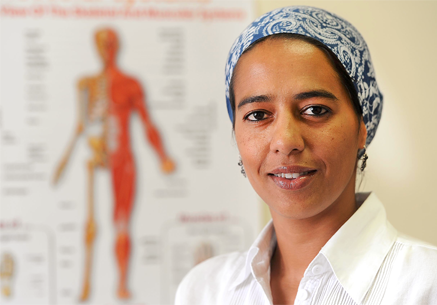 Majdah Bardien graduated from the University of the Western Cape where she received her Bachelor of Science degree, majoring in Physiotherapy, in 1997. She went on to work at the Sports Science Institute, where she assisted patient in the prevention and rehabilitation of orthopedic conditions and injuries. She then worked at a private practice within a hospital and had the opportunity to do hospital work and outpatient department work.
In 2006, she completed a post-graduate course in Orthopedic Manual therapy, a "hands on" treatment which aids in regaining and increasing muscle and joint function.
Majdah established her own private practice in March, 2000. An avid runner, Majdah also works with various sporting clubs and has been involved with a Super League A Rugby Team for 10 years, she is a registered member of the Health Professions Council of South Africa and the South African Society of Physiotherapy. Majdah constantly strives to give her patients the best possible treatment and, to this end, she continually attends courses and workshops to improve her techniques and treatment plans.
Patients are Majdah Bardien's priority. Each case is thoroughly assessed before any treatment plan is actioned. Lifestyle, Health and Activity level are key factors affecting the rehabilitation of an injury and Majdah takes these into consideration when drafting a treatment plan, which is explained to the patient at length. Usually, treatment consists of massage and soft tissue mobilization, as well as joint mobilization and Orthopedic Manual Therapy. Majdah Bardien makes use of various techniques and approaches to rehabilitate an injury to the full level of function and, if necessary, she will refer patients on to relevant medical specialists to ensure her patients receive the treatment they need.